Date:2017-10-30 Hits:4146
Micro Motion® ELITE® Coriolis Flow and Density Meters
Micro Motion® CMF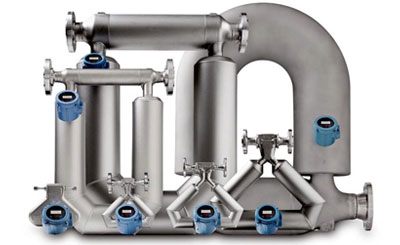 Ultimate real world performance
■ Unchallengeable ELITE performance on liquid mass flow, volume flow, and density measurements
■ Best-in-class gas mass flow measurement
■ Reliable two-phase flow measurement for the most challenging applications
■ Designed to minimize process, mounting, and environmental effects
Best fit-for-application
■ Scalable platform for the widest range of line size and application coverage including hygienic, cryogenic,
high pressure, and high temperature
■ Available with the broadest range of I/O offerings highlighted by expansive digital protocol support
Superior measurement confidence
■ Smart Meter Verification delivers complete, online verification of device health and performance,
continuously or on-demand at the press of a button
■ Globally leading ISO/IEC 17025 calibration facilities offers best in class uncertainty of ±0.014%
■ Intelligent sensor design mitigates the need for zero calibration in the field
Micro Motion® ELITE® Coriolis flow and density meters
Micro Motion ELITE meters provide unmatched flow and density measurement performance to deliver the ultimate control and
confidence in your most complex and challenging liquid, gas, and slurry applications.
Tip
If you need help determining which Micro Motion products are right for your application, check out the
Micro Motion® Technical Overview and Specification Summary and other resources available at www.emerson.com.
Achieving the ultimate flow fit for your application
■ Able to achieve the best fit for your flow measurement with a wide range of tube designs and flow rate coverage to best serve
your application
■ Peak performance in a drainable design with a variety of industry approvals for use in strictly governed sanitary applications
■ Scalable platform for a broad array of application coverage including hygienic, cryogenic, and high pressure
Smart Meter Verification: advanced diagnostics for your entire system
■ A comprehensive test that can be run locally or from the control room to provide confidence in your meter functionality and
performance
■ Verifies that your meter performs as well as the day it was installed, giving you assurance in less than 90 seconds
■ Save significant expenditure by reducing labor and outsourced calibration service costs while eliminating process interruption
Industry-leading capabilities that unleash your process potential
■ Available with the most extensive offering of transmitter and mounting options for maximum compatibility with your system
■ State of the art, ISO-IEC 17025 compliant calibration stands achieving ±0.014% uncertainty drive best in class measurement
accuracy
■ The most robust communication protocol offering in the industry including Smart Wireless
■ True multi-variable technology measures necessary flow and density process variables simultaneously
■ Widest selection of safety, country, and custody transfer approvals
Unparalleled performance in two-phase flow conditions
■ Featuring the lowest frequency Coriolis sensors that ensure the two-phase mixture vibrates with the tube to drastically reduce
entrained gas uncertainty contributions
■ Unmatched MVD transmitter technology with digital signal processing (DSP) delivers the fastest response and refresh rates
enabling accurate batch and other two-phase flow measurement
■ Measure fluids with any Gas Void Fraction (GVF). The relationship to mass flow accuracy varies with application
Measurement principles
As a practical application of the Coriolis effect, the Coriolis mass flow meter operating principle involves inducing a vibration of the
flow tube through which the fluid passes. The vibration, though it is not completely circular, provides the rotating reference frame
which gives rise to the Coriolis effect. While specific methods vary according to the design of the flow meter, sensors monitor and
analyze changes in frequency, phase shift, and amplitude of the vibrating flow tubes. The changes observed represent the mass
flow rate and density of the fluid.
Mass flow measurement
The measuring tubes are forced to oscillate producing a sine wave. At zero flow, the two tubes vibrate in phase with each other.
When flow is introduced, the Coriolis forces cause the tubes to twist resulting in a phase shift. The time difference between the
waves is measured and is directly proportional to the mass flow rate.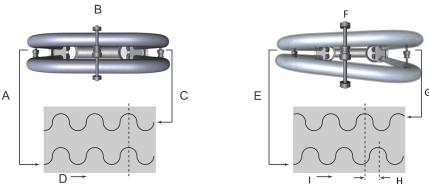 A. Inlet pickoff displacement
B. No flow
C. Outlet pickoff displacement
D. Time
E. Inlet pickoff displacement
F. With flow
G. Outlet pickoff displacement
H. Time difference
I. Time
Density measurement
The measuring tubes are vibrated at their natural frequency. A change in the mass of the fluid contained inside the tubes causes a
corresponding change to the tube natural frequency. The frequency change of the tube is used to calculate density.
Temperature measurement
Temperature is a measured variable that is available as an output. The temperature is also used internal to the sensor to
compensate for temperature influences on Young's Modulus of Elasticity.
Liquid flow rates
Nominal flow rate
Micro Motion has adopted the term nominal flow rate, which is the flow rate at which water at reference conditions causes
approximately 14.5 psig (1 barg) of pressure drop across the meter.
Mass flow rates for stainless steel models: 304L (L), 316L (M/A), and Super Duplex (Y)
Style Model
Nominal line size Nominal flow rate Maximum flow rate
inch mm lb/min kg/h lb/min kg/h
CMFS007M 1/12" DN1 1.28 35.0 1.50 40.9
CMFS010M 1/10" DN2 3.56 97.0 4.03 110
CMFS015M 1/6" DN3 11.4 310 12.1 330
CMFS025M 1/4" DN6 38.5 1050 77.0 2100
CMFS040M 3/8" DN10 85.0 2,320 170 4,640
CMFS050M 1/2" DN15 125 3,410 250 6,820
CMFS075M 3/4" DN20 230 6,270 460 12,500
CMFS100M 1" DN25 475 13,000 950 25,900
CMFS150M 1-1/2" DN40 990 27,000 1,980 54,000
CMF010M/L 1/10" DN2 3.43 93.5 3.96 108
CMF025M/L 1/4" DN6 48.0 1,310 79.9 2,180
CMF050M/L 1/2" DN15 127 3,460 249 6,800
CMF100M/L 1" DN25 571 15,600 997 27,200
CMF200M/L/
A
2" DN50 1,760 47,900 3,190 87,100
CMF300M/L/
A
3" DN80 5,840 159,000 9,970 272,000
CMF350M/A 4" DN100 10,700 292,000 15,000 409,000
CMF400M/A 6" DN150 15,200 414,000 20,000 545,000
CMFHC2M/Y 8" DN200 27,900 762,000 54,000 1,470,000
CMFHC3M/Y 10" DN250 49,000 1,340,000 94,000 2,550,000
ELITE Series Coriolis Flow and Density Meters
Style Model
Nominal line size Nominal flow rate Maximum flow rate
inch mm lb/min kg/h lb/min kg/h
CMFHC4M 12" DN300 75,000 2,040,000 120,000 3,266,000
Mass flow rates for nickel alloy C22 (H/B) and high pressure (P) models
Style Model
Nominal line size Nominal flow rate Maximum flow rate
inch mm lb/min kg/h lb/min kg/h
CMFS010H/P 1/10" DN2 2.86 78.0 4.03 110
CMFS015H/P 1/6" DN3 8.18 223 12.1 330
CMFS025H/P 1/4" DN6 32.5 886 65.0 1,770
CMFS050H/P 1/2" DN15 94.0 2,560 188 5,130
CMFS100H/P 1" DN25 430 11,700 860 23,500
CMFS150H/P 1-1/2" DN40 900 24,500 1,800 49,100
CMF010H/P 1/10" DN2 2.57 70.2 3.96 108
CMF025H 1/4" DN6 48 1,310 79.9 2,180
CMF050H 1/2" DN15 127 3,460 249 6,800
CMF100H 1" DN25 571 15,600 997 27,200
CMF200H/B 2" DN50 1,760 47,900 3,190 87,100
CMF300H/B 3" DN75 5,840 159,000 9,970 272,000
CMF350P 4" DN100 10,700 292,000 15,000 409,000
CMF400H/B/P 6" DN150 15,200 414,000 20,000 545,000
Volume flow rates for stainless steel models: 304L (L), 316L (M/A), and Super Duplex (Y)
Style Model
Nominal flow rate Maximum flow rate
gal/min barrels/h l/h gal/min barrels/h l/h
CMFS007M 0.154 0.220 35.0 0.180 0.257 40.9
CMFS010M 0.426 0.609 97.0 0.484 0.691 110
CMFS015M 1.36 1.95 310 1.45 2.07 330
CMFS025M 4.62 6.59 1,050 9.23 13.2 2,100
CMFS040M 10.2 14.6 2,320 20.4 29.1 4,640
CMFS050M 15.0 21.4 3,410 30.0 42.8 6,820
CMFS075M 27.6 39.4 6,270 55.2 78.8 12,500
CMFS100M 57.0 81.4 13,000 114 163 25,900
CMFS150M 119 170 27,000 237 339 54,000
CMF010M/L 0.411 0.587 93.5 0.475 0.678 108
CMF025M/L 5.76 8.23 1,310 9.58 13.7 2,180
CMF050M/L 15.2 21.7 3,460 29.9 42.7 6,800
CMF100M/L 68.5 97.8 15,600 120 171 27,200
Style Model
Nominal flow rate Maximum flow rate
gal/min barrels/h l/h gal/min barrels/h l/h
CMF200M/L/
A
211 301 47,900 383 547 87,100
CMF300M/L/
A
700 1,000 159,000 1,200 1,710 272,000
CMF350M/A 1,283 1,833 292,000 1,800 2,570 409,000
CMF400M/A 1,820 2,600 414,000 2,400 3,420 545,000
CMFHC2M/Y 3,350 4,790 762,000 6,440 9,200 1,470,000
CMFHC3M/Y 5,880 8,400 1,340,000 11,270 16,100 2,550,000
CMFHC4 8,990 12,800 2,040,000 14,350 20,500 3,266,000
Volume flow rates for nickel alloy C22 (H/B) and high pressure (P) models
Style Model
Nominal flow rate Maximum flow rate
gal/min barrels/h l/h gal/min barrels/h l/h
CMFS010H/P 0.343 0.490 78.0 0.484 0.691 110
CMFS015H/P 0.980 1.40 223 1.45 2.07 330
CMFS025H/P 3.90 5.57 886 7.79 11.1 1,770
CMFS050H/P 11.3 16.1 2,560 22.5 32.2 5,130
CMFS100H/P 51.6 73.7 11,700 103 147 23,500
CMFS150H/P 108 154 24,500 216 308 49,100
CMF010H/P 0.309 0.441 70.2 0.475 0.678 108
CMF025H 5.76 8.23 1,310 9.58 13.7 2,180
CMF050H 15.2 21.7 3,460 29.9 42.7 6,800
CMF100H 68.5 97.8 15,600 120 171 27,200
CMF200H/B 211 301 47,900 383 547 87,100
CMF300H/B 700 1,000 159,000 1,200 1,710 272,000
CMF350P 1,283 1,833 292,000 1,800 2,570 409,000
CMF400H/B/P 1,820 2,600 414,000 2,400 3,420 545,000
Gas flow rates
When selecting sensors for gas applications, pressure drop through the sensor is dependent upon operating temperature, pressure,
and fluid composition. Therefore, when selecting a sensor for any particular gas application, it is highly recommended that each
sensor be sized using the Online Store Sizing and Selection Tool at the Emerson web site (www.emerson.com).
The table below indicates mass flow rates that produce approximately 25 psig (1.7 barg) pressure drop on natural gas with
molecular weight of 17 at 60 °F (16 °C) and 500 psig (34 barg).
Gas flow rates for all models
Model
Mass Volume
lb/min kg/h SCFM Nm3
/h
CMFS007M 0.5 15 12 20
CMFS010M 1.1 30 24 42
CMFS010H/P 0.97 26 22 37
CMFS015M 2.7 76 62 106
CMFS015H/P 2.1 58 48 81
CMFS025M 9 240 200 340
CMFS025H/P 7.7 210 170 290
CMFS040M 19 540 440 750
CMFS050M 28 770 640 1,000
CMFS050H/P 21 590 490 830
CMFS075M 54 1,400 1,200 2,000
CMFS100M 100 2,900 2,400 4,100
CMFS100H/P 98 2,600 2,200 3,700
CMFS150M 220 6,100 5,000 8,500
CMFS150H/P 200 5,600 4,600 7,800
CMF010M/H/L 0.85 23 19 32
CMF010P 0.65 17 14 25
CMF025M/L/H 11 310 260 440
CMF050M/L/H 29 810 670 1,100
CMF100M/L/H 130 3,600 3,000 5,100
CMF200M/L/H/A/B 400 10,000 9,000 15,000
CMF300M/L/H/A/B 1,300 36,000 30,000 51,000
CMF350M/A/P 2,300 62,000 51,000 88,000
CMF400M/H/A/B/P 3,300 92,000 76,000 120,000
CMFHC2M/A/Y 5,500 150,000 120,000 210,000
CMFHC3M/A/Y 8,800 240,000 200,000 330,000
CMFHC4M 14,000 380,000 320,000 540,000