C300 Controller
Honeywell's C300 Controller provides powerful and robust process control for the Experion® platform. Based on the unique and space-saving Series C form factor, the C300 joins the C200, C200E, and the Application Control Environment (ACE) node in operating Honeywell's field-proven and deterministic Control Execution Environment (CEE) software.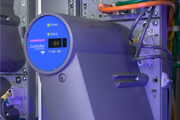 What Is It?
Ideal for implementation across all industries, the C300 controller offers best-in-class process control. It supports a wide variety of process control situations, including continuous and batch processes and integration with smart field devices. Continuous process control is achieved through an array of standard functions that are built into control strategies. The C300 controller supports the ISA S88.01 batch control standard and integrates sequences with field devices, including valves, pumps, sensors, and analyzers. These field devices track the state of the sequences to perform pre-configured actions. This tight integration leads to quicker transitions between sequences, increasing the throughput.

The controller also supports advanced process control with Honeywell's patented Profit® Loop algorithm as well as custom algorithm blocks, which let users create custom code to run in the C300 controller.


How Does It Work?
Like C200/C200E and the ACE node, the C300 operates Honeywell's deterministic Control Execution Environment (CEE) software which executes control strategies on a constant and predictable schedule. The CEE is loaded into the C300 memory providing the execution platform for the comprehensive set of automatic control, logic, data acquisition and calculation function blocks. Each function block contains a set of pre-defined features such as alarm settings and maintenance statistics. This embedded functionality guarantees consistent process control strategy execution.

The controller supports many input/ output (I/O) families, including Series C I/O and Process Manager I/O, and other protocols such as FOUNDATION Fieldbus, Profibus, DeviceNet, Modbus, and HART.

What Problems Does It Solve?
C300 allows engineers to address their most demanding process control requirements from integration with complicated batch systems to controlling devices on a variety of networks such as FOUNDATION Fieldbus, Profibus, or Modbus. It also supports advanced control with Profit Loop, which puts model-based predictive control directly in the controller to minimize valve wear and maintenance.