Fairchild Electro-Pneumatic Transducers
Accurate, compact I/P, E/P, D/P & P/I electro-pneumatic transducers with extensive combinations of inputs and outputs carry standard FM, CSA, ATEX or IECEx agency approvals and maintain accuracies up to 0.15%. Fast response transducers, high flow transducers and high accuracy transducers developed by Fairchild feature proportional pressure regulation.
Industrial Process Transducers
The Process Control line of I/P Transducers utilizes a flapper and nozzle attached to a voice coil to proportionally regulate the output pressure. The Fairchild T5200, T5400, T5700 and T6000 pressure transducer series offer dependable performance at economical prices. The new T6100 I/P unit also offers "Lock in Last Place" reliability in an easy to use product configuration.
Lock in Place I/P Pressure Transducers (T6100)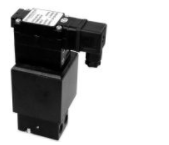 Features
Locks in "Last Position."
Extremely low drift after power loss.
IP65 Rated.
Single part number specification.
Moisture resistant PCB and zinc coated components

Benefits
Accurately captures setpoint if power is lost.
Permits transducer to maintain set point.
Unit handles moist applications.
Makes it easy to specify and cover all your needs
Superior Construction for moisture resistance in tough applications.

Uniquely designed by Fairchild, the T6100 "Lock in Last Place" I/P pressure transducer provides flexibility, reliability and safety in applications requiring protection from signal failures to critical control system instruments. Its simple yet effective voice coil actuation now Locks in "Last Position" to accurately capture the setpoint with extremely low drift after a power loss permits the T6100 to maintain set point. The unit's IP65 rating allows you to handle moist applications with ease. Design of the T6100 relies on a proprietary integrated solenoid valve module interposed between the flapper-nozzle pilot and the booster section. Upon signal failure, an electrical charge stored within the active electronic circuit controlling the integrated solenoid valve module maintains the current to the voice coil at its last setpoint. Simultaneously, a high energy pulse closes the solenoid valve, trapping the signal pressure within the signal chamber at the last setpoint. The booster continues to provide its normal forward and exhaust flow, with the constant signal pressure now captured and maintained within the signal chamber. Advanced valve orifice design of the T6100 increases its forward flow capacity to a minimum of 5-scfm at 21-psig supply pressure.