Date:2019-12-24 Hits:4072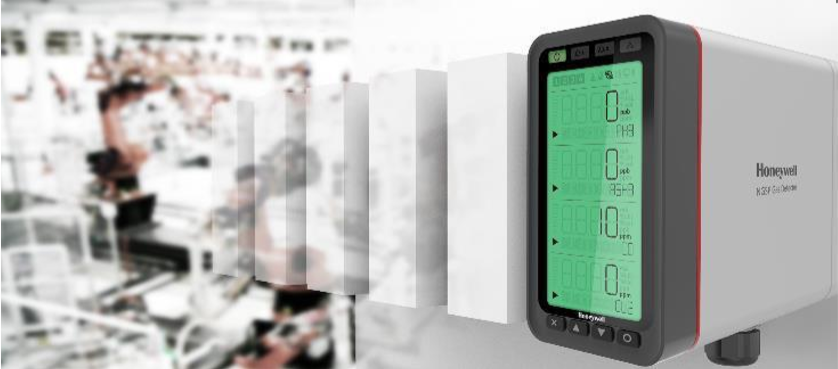 Honeywell霍尼韦尔MIDAS四合一探测器 2020新款 Hi-Tech Products Midas-M (4 in 1)
Hi-Tech Products Midas-M (4 in 1)
Hi-Tech Products over view
Midas-M (4 in 1)
Vertex and Vertex SF
MIDAS-M AT A GLANCE
Delivering lower cost of ownership • Significantly lower cost in Max 4 gases on the single transmitter (Transmitter, Tubing, Wiring) • Small footprint (1/4 space to replace 4 transmitters) Enhanced Safety Tolerance • Reflex • Alarm Voting (2020 Q2) • Alarm Verif-I (2020 Q2) • LIT (2020 Q3)
Advanced UI in HMI and Web page

PRODUCT OVERVIEW
•Fixed 4-gas extractive gas detector for single point detecting •Lower cost per detecting point with multi-sensor cartridge •Easy to use and maintain by modularized design

OVERALL STRUCTURE
MIDAS-M FEATURES
•Extractive multi-gas transmitter (up to 4 gases)
•Modular serviceable pump
•Hot swap smart sensor cartridge
•Serviceable smart sensor
•24 VDC or 48V VDC PoE(IEEE 802.3af compliant)
•Remote access on internet browser via Ethernet
•Modbus/TCP •3 relays in Transmitter and Optional 9 relays
•VERIF-I (2020 Q2) •LIT(2020 Q3)
•3 wire sink, 3 wire source, or 4 wire fully isolated 021mA for each channel •14 AWG and CAT5
•0°C to +40°C (32°F to 104°F)
•EN50270:2015, UL 61010-2012
•Wall mounted
MIDAS-M SET UP OPTIONS

MIDAS-M SET UP OPTIONS
Midas Key Applications
•Pyrolyzer
•Gas Cabinet (stand alone)
•Chemical Mixer
•Ambient
Midas-M Key Applications
•Exhaust (Scrubber)
•Production Tool (CVD, Dry Etch)
•VMB
•Ambient

USER INTERFACE-DISPLAY
DISPLAY ACCORDING TO THE STATUS
▪ Gas name display
▪ Fault message display
▪ Alarm LED is turned on if at least one channel is in alarm
▪ Fault LED is turned on if there is fault
▪ LCD backlight is turned on depending on the channel status and device status

USER INTERFACE
Usage: Provides gas detection and alarm setting function for each channel 
Function details:
1.Channel: Set the desired channel
2.Gas: Set the gas you want to detect on each channel. Gas-name and K-factor (weight value for gas value) can be set only for User-gas.
3.Range: Measurable range. Can not be set.
4.Alarm1: Sets the concentration at which Alarm1 occurs.
5.Alarm2: Sets the concentration at which Alarm2 occurs.
6.Dead band: Dead band setting
7.Alarm delay: When an alarm condition is reached, an alarm occurs at dealytime
8.Latching alarms: Set up Latching in an alarm situation
9.Calibration period: Set the period of time for calibrating the progress alarm.
10.Reset to default: Changes the setting value to factory default.
11.Reset: Returns the setting value to the previous setting value.

TRANSMITTER TERMINALS
WIRING RELAY MODULE
MIDAS-M SMART SENSOR CARTRIDGE
MIDAS-M_SMART SENSOR AVAILABLE AT LAUNCH
Part number Description
MMS-00 Midas-M Dummy Sensor
MMS-E2 Midas-M Hydrogen Chloride (HCI) 0 - 8ppm, 2 years
MMS-X2 Midas-M Silane (SiH4) 0 -20 ppm, 2 years
MMS-G2 Midas-M Hydrogen (H2) 0 - 1000ppm, 2 years
MMS-L2 Midas-M Chlorine (CI2) 0 - 2ppm, 2 years
MMS-A2 Midas-M Ammonia (NH3) 0 - 100ppm, 2 years
MMS-C2 Midas-M Carbon Monoxide (CO) 0 - 100ppm, 2 years
MMS-R2 Midas-M Phosphine (PH3) 0 - 1200ppb, 2 years
MMS-U2 Midas-M Ozone (O3) 0 - 0.4ppm, 2 years
MMS-D2 Midas-M Oxygen (O2) 0 - 25%v/v, 3 years
MMS-S2 Midas-M Sulphur Dioxide (SO2) 0 - 8ppm, 2 years
MMS-Z2 Midas-M Hydrogen Flouride (HF) 0 - 12ppm, 2 years

MIDAS-M_SMART SENSOR AVAILABLE AFTER LAUNCH

Release Plan MIDAS-M Catridge Gas Name
Available 1 Quarter later MMS-Z3/Z4 HF
Available 1 Quarter later MMS-Z3/Z4 BF3
Available 1 Quarter later MMS-Z3/Z4 WF6
Available 1 Quarter later MMS-TR1/TR2 CO2
Available 2 Quarters later MMS-ET1/ET2 ETO
Available 2 Quarters later MMS-ET1/ET2 TEOS
Available 2 Quarters later MMS-K1/K2 AsH3
Available 2 Quarters later MMS-K1/K2 GeH4
Available 3 Quarters later MMS-Q1/Q2 Br2
Available 3 Quarters later MMS-Q1/Q2 ClO2
TBD MMS-Q1/Q2 ClF3
Available 4 Quarters later MMS-P1/P2 B2H6
Available 4 Quarters later MMS-T1/T2 CO2
Available 4 Quarters later MMS-V1/V2 NO
Available 4 Quarters later MMS-V21/V22 NO2
Available 5 Quarters later MMS-H3/H4 H2S TBD POCl3
Available 5 Quarters later MMS-Y1/Y2 HCN
Available 5 Quarters later MMS-X1/X2 H2Se

GAS TABLE
ORDER INFORMATION- TRANSMITTER
MIDA M Extractive Transmitter for Universal Gas Detection
Part number Description
MMT-01 MIDAS-M 4-20mA Extractive Transmitter
MMT-02 MIDAS-M TCP/IP Modbus Extractive Transmitter
MMT-T01 MIDAS-M 4-20mA Extractive Transmitter with Tube
MMT-T02 MIDAS-M TCP/IP Modbus Extractive Transmitter with Tube
MMT-B01 MIDAS-M 4-20mA Extractive Transmitter Bulk Package(6pcs)
MMT-B02 MIDAS-M TCP/IP Modbus Extractive Transmitter Bulk Package(6pcs)

OPTION and Spares
MM-REL Midas-M Relay Module
MM-PM Midas-M Relay Module
MM-FIL Midas-M Relay Module
MM-B01 Midas-M 4-20mA Base Module
MM-B02 Midas-M TCP/IP Base Module
MM-M01 Midas-M 4-20mA Main Module
MM-M02 Midas-M TCP/IP Main Module