Fairchild PAX1 Electric Linear Actuator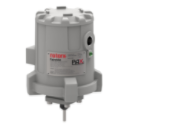 Features
Output pressure locks in last position in event of power failure or signal loss.
Stepper Motor equipped configuration
Standard xplosion-proof NEMA 4X housing
End of travel limit switches

Benefits
Safe, predictable and reliable operation
Capable of rapid start-stop with high running torque enables use in open loop control and automated systems
Designed for use in hazardous or harsh environments
User selectable setting of minimum and maximum pressure values

Rotork Fairchild's all new PAX1 Series Linear Actuator can be used alone or it can be paired with a variety of Fairchild time proven pressure regulators, enabling remote control of the pneumatic pressure. Power is provided by 11-26 VDC and position is controlled by a 4-20mA signal or pulse clockwise or counterclockwise. The actuator is designed to lock in last place if power or signal are lost. The PAX1 is ideal when precise position control is required, and it has an optional analog feedback that transmits current position to the operator through an 4 to 20 mA Analog Feedback Signal. Adjustable motor speeds, customer set position limits and alarms are standard features.
The PAX 1is available in a variety of configurations and NAMUR mounting interface allow it to be flexible for use as an industrial actuator, featuring a 1" (25 mm) maximum thrust rod stroke moving at speeds up to 60 mm/min and a maximum thrust of 650 lbf (2,890 N), all in a flameproof enclosure. The unit in inherently lock in last place (fail freeze) as the thrust rod maintains its position upon loss of signal or electrical power.
The PAX1 can be actuated open loop using two optically isolated switch closure inputs (UP and Down) to move the actuator's thrust rod. The actuator will continue the move of the thrust rod in response to the inputs until either either of the adjustable stroke limits are reached.
The PAX 1 also has an isolated 4-20 mA analog input to proportionally position the thrust rod anywhere within its 1" (25 mm) stroke. Optionally, a 1-5 VDC non-isolated analog input can be selected by an internal DIP switch.
The actuator also includes two fully adjustable SPDT alarm relays (one High and one Low), providing critical positions within its stroke. The relays are latched so the alarm switch states are maintained when the power is disconnected.
The actuator also features UP and DOWN buttons and a 5/16" (8 mm) female HEX socket to allow manual actuator movement, in order to facilitate commissioning.
All these features are allows accurate control and alarm functions on systems that remove power from the actuator between adjustments to conserve power, as typically done in solar powered installations.