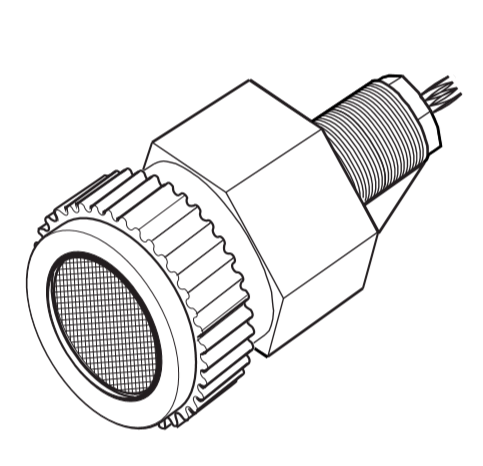 Honeywell SENSEPOINT HT COMBUSTIBLE GAS SENSOR
Dimensions: See diagram in Installation section.
Operating temperature range: -40°C to +150°C.
Operating humidity range: 20% to 90% RH continuous. 10% to 99% RH intermittent - non condensing.
Operating pressure range: 75 to 110 k Pa.
Warm up time: Less than 10 minutes.
Voltage range: 2.9 V to 3.5 V bridge (at 200mA).
Power consumption: 700mW.
Signal output: mV bridge.
Calibration flow rate: Recommended between 1 and 1.5 l/min.
Poisoning: The sensing elements may become inactive after extensive exposure to silicones, halogenated hydrocarbons, heavy metals or sulphur compounds.
Expected operating life: 5 years.
IP rating: IP65 standard; IP66/67 with Weather Protection.
CE: The sensor complies with relevant CE directives.
ATEX Certification: II 2G EEx d IIC T3 Tamb -40oC to +150oC Baseefa02ATEX0242X
The Sensepoint High Temperature (HT) Combustible Gas Sensor is a sealed disposable sensor for the detection of flammable gases. It must be fitted into a suitably approved Exe or Exd high temperature junction box (e.g. Feel Flameproof Enclosures) fitted with an approved cable gland for external wiring (e.g. Peppers Cable Glands, Series A3LF or CR3 CROLOCK Series).
The sensor features a Filter Housing that retains a stainless steel mesh filter. It employs a catalytic pellistor sensor device which is used as part of a bridge measuring circuit.
Sensepoint HT is certified for hazardous areas to EN50014/EN50018 and is protected against water and dust ingress to IP66/67. The sensor is available in M20, M25 and 3/4 NPT thread versions. The sensor accepts accessories from a specified range (see Accessories & Spare Parts).
Part Number Description
2106B2310 Sensepoint HT Flammable Sensor (ATEX) M20*
2106B2311 Sensepoint HT Flammable Sensor (ATEX) M25*
2106B2312 Sensepoint HT Flammable Sensor (ATEX) 3/4 NPT*
00705-A-1735 705 High Temperature Flammable Detector-
Aluminum- 150 deg C- UL- 3/4NPT
Stainless steel filter 00780-F-0018
Filter Housing 00780-C-0038
High Temperature Junction Box 2052D0001
High Temperature Weather Protection 00780-A-0076